Transitional

Stretchy material made to last for hundreds of swaddle sessions - from naps to nights. One size fits all! No need to size up as baby grows!

Supports Healthy Joint Development

Stretchy inner Swaddle Band provides pressure from bicep to forearm. No pressure on hips and shoulders for healthy joint development.

High Quality Fabric

Quiet closure keeps baby asleep all night long, even with diaper changes. Stretchiness, allows mom to easily swaddle tightly. Machine washable with included mesh bag and machine dryable.
How to Swaddle
Step 1

To set up for the first time, lay out the Swaddle Blanket and Snuggle Band. It's easiest to set up on a flat surface. 

Step 2

Place both of baby's arms gently at their side. Your baby's elbows should sit just below the top of the Snuggle Band.

Step 3

Wrap the inner Snuggle Band securely around baby, just above their elbows and secure with hook and loop fastener. It should be snug, but not tight with room for about 2 fingers.

Step 4

Pull the left side of the outer Swaddle Blanket across baby, pulling at a slight downward angle away from baby's face. The fabric should be snug, but not tight.

Step 5

Take the right side of the fabric and secure to the left side of the Swaddle Blanket. This should be comfortingly snug. Keep in mind, the inner Snuggle Band keeps baby securely swaddled and the outer blanket is for added comfort, and does not need to be extremely tight.

Step 6

Secure the bottom portion of hook and loop material on the blanket to keep baby's legs in place. Finally, tie the bottom of the Swaddle Blanket into a knot to keep baby's feet contained. This knot must be right at the base of the baby's feet in order to help prevent the Swaddle & Snuggle from riding up over baby's shoulders.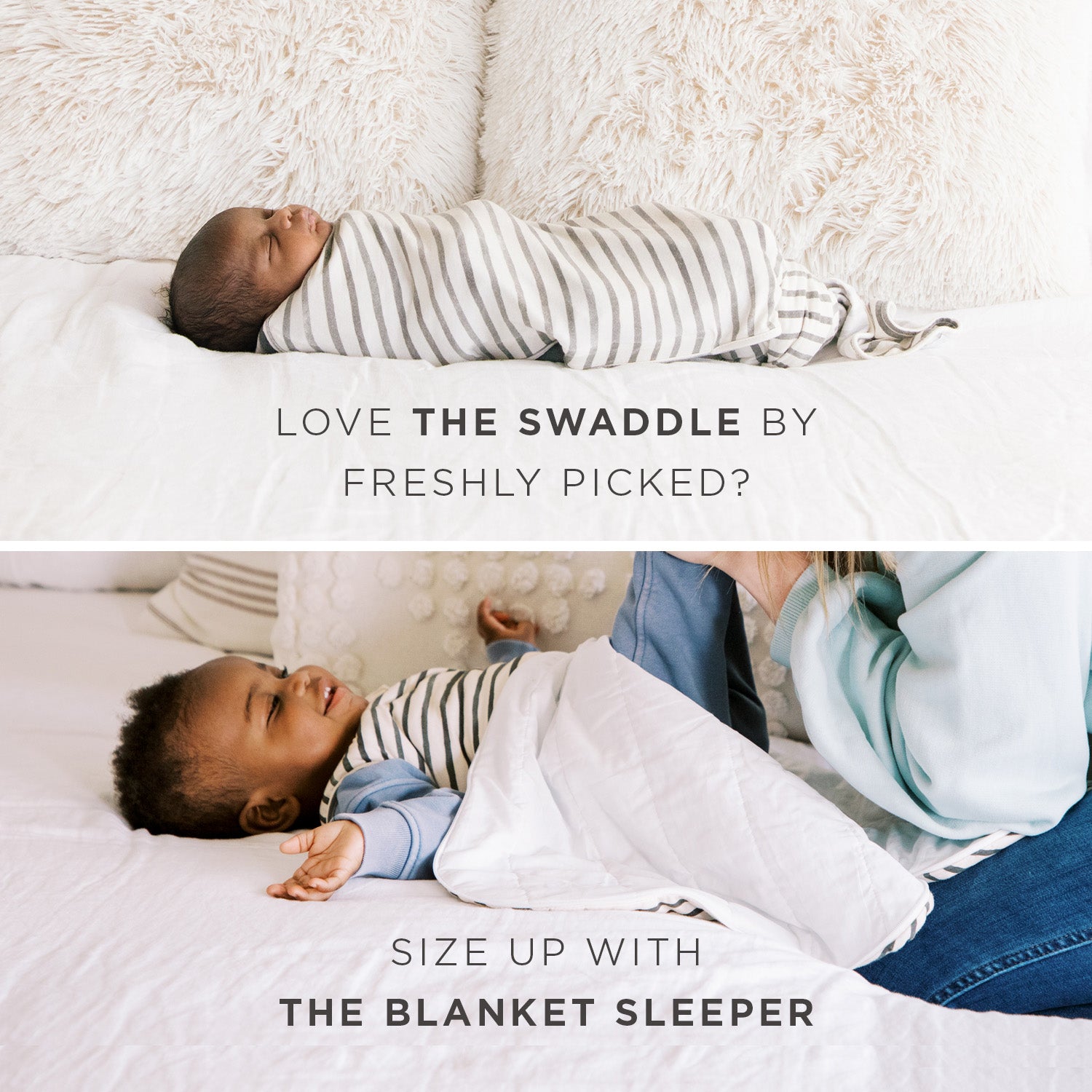 BLANKET SLEEPERS
Ready to size up? Learn how to transition to Freshly Picked's Blanket Sleepers!
LEARN MORE