Regular price
$49.00
Sale price
$49.00
Unit price
per
Sale
Sold Out
Size Guide
Save 20%

Ship for Free

Join The Fringe
Share
Details
What's Included:

1 Swaddle Blanket & Snuggle Band
1 Mesh Laundry Bag
Our premium and improved, one piece swaddle was thoughtfully designed with mom (and baby) in mind. The Snuggle Band holds baby's arms tightly to their body for a snug, secure feeling all night while the attached Swaddle Blanket gently wraps baby up for comfort, warmth, and safety.
The Sage Windowpane Swaddle Blanket is off-white with an oversized sage grid pattern. The Swaddle Band is cream. Perfect for your precious little babe.
Transitional:

Stretchy material made to last for hundreds of swaddle sessions - from naps to nights.
One size fits all! No need to size up as baby grows!
Supports Healthy Joint Development
Stretchy inner Swaddle Band provides pressure from bicep to forearm.
No pressure on hips and shoulders for healthy joint development.
High Quality Fabric

Quiet closure keeps baby asleep all night long, even with diaper changes.
Stretchiness allows mom to easily swaddle tightly.
Machine washable with included mesh bag and machine dryable.

Swaddle Blanket: 93% Rayon, 7% Spandex

Snuggle Band: 81% Polyester, 12% Rayon,  7% Spandex
Dimensions
Swaddle Blanket: 3 ft x 2 1/2 ft
Snuggle Band: Minimum diameter of 13" and a maximum diameter of 22"
View full details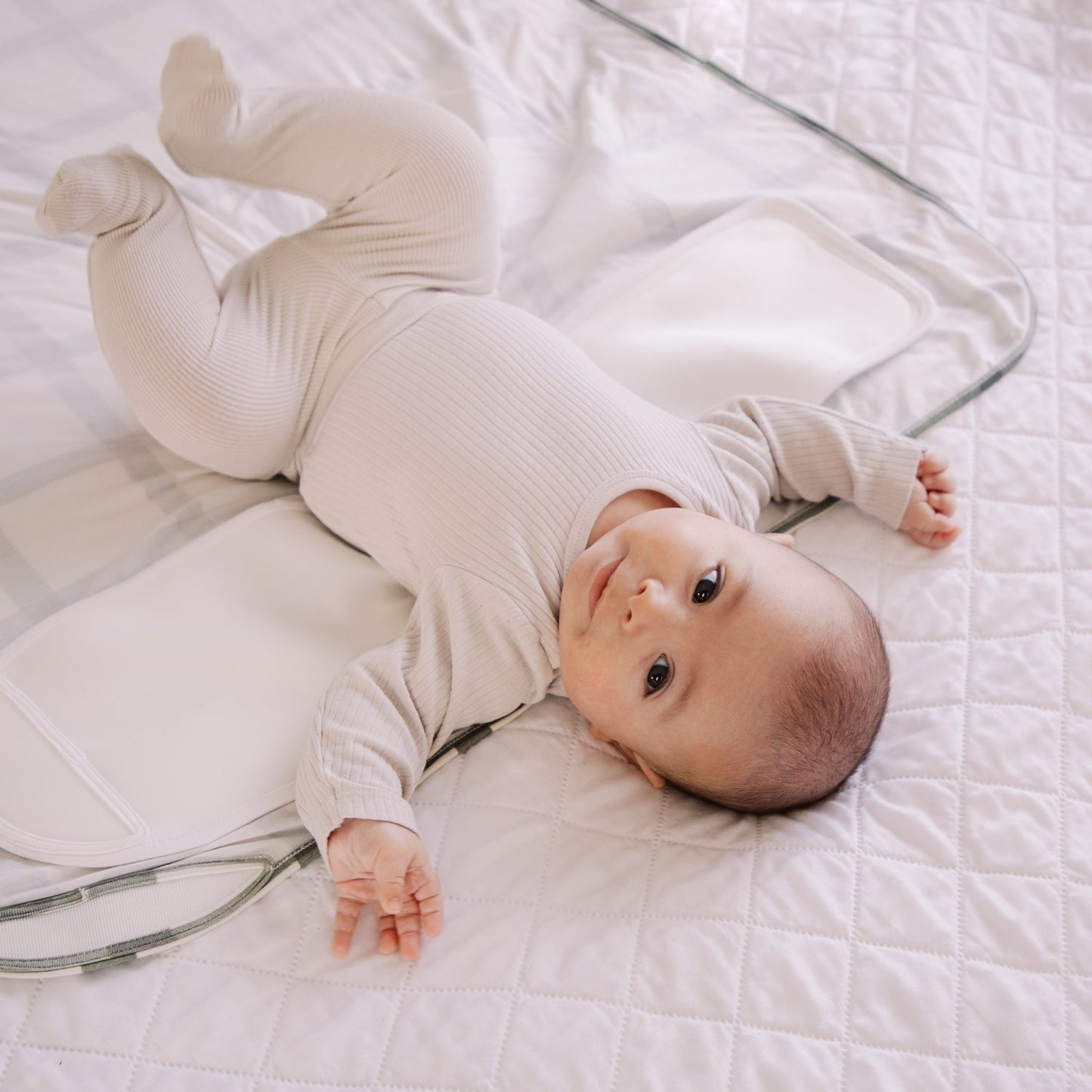 Size Guide
Baby Shoe Size Chart
Sandal + Sneaker Size Chart