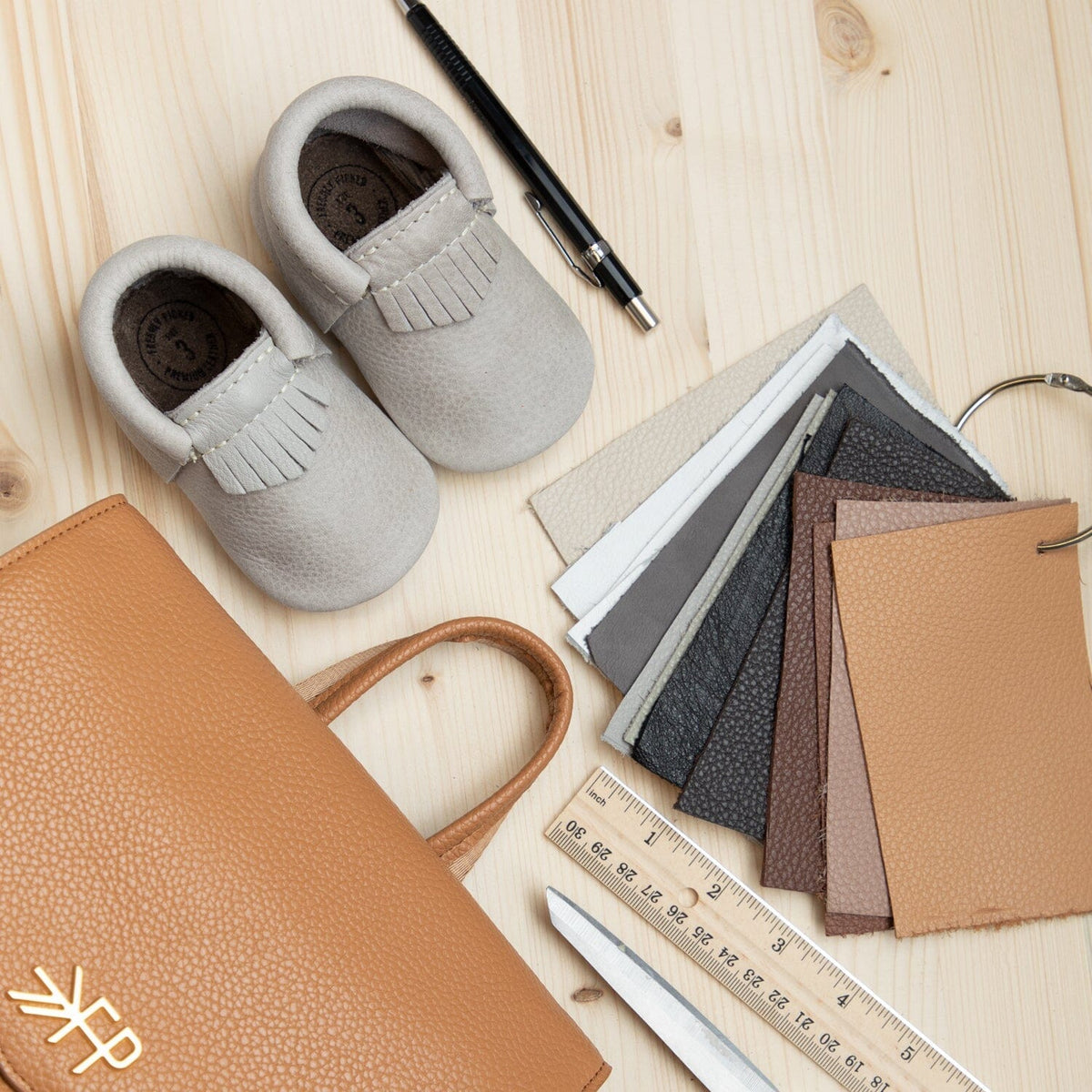 How We Make Our Baby Shoes
Here at Freshly Picked we take pride in our high quality products. All of our baby shoes, totes, and cosmetic pouches are made, to order, by hand, in Utah. Our talented seamstresses are dedicated to putting love into every stitch to ensure that the toes of your little kiddos are well taken care of. There are many steps we take to make the original and best quality baby shoes on the market.

First, it starts with  your order. Once you place your order, our team receives notice of the size, style, and color and places it on the production line to be made to order. Our team then pulls out the genuine Italian leather.  If there is a stylized print, it will be heat transferred onto the leather before it is cut and prepped.

The next step in the production line is to cut the leather. We have cutting machines run by an amazing team who make sure each order is perfectly sized for your little one's foot. our seamstresses then sew on the specialties, such as the knotted bow and fringe. From there, they deboss the logo into the bottom of the shoe and stamp the size on the inside. 
 
Check out this video of our baby shoes being made. If you love ASMR - this is for you. Listen as the machines whir and and the leather is pressed.
Sound on!
Now to begin sewing! The toe and heel are  sewed first and separately. Our expert seamstresses combine the cut leather pieces with the toe and heel inside out and sew it all together. Once all of the pieces are put together, they flip it right side out and crease the seams. Creasing the seams makes it comfortable and ensures it won't hurt the baby's foot.
Next on the production line is the elastic band that holds these cute shoes on your babe's feet. The seamstress pulls the elastic through the ankle cuff, sews it shut, and places it in a bin to be sorted for the last stop on the production line, kitting.
Kitting is when the baby shoes is inspected for quality issues, sizing is checked to make sure that both shoes in the pair are matching. From there, the baby shoes are put into their correct packaging. If it is going to wholesale it is boxed and given labels and sizing stickers. baby shoes ordered online  are given a dust bag for protection  while they are stored,  bagged, labeled and shipped! Freshly Picked is one of the few companies left that make-to-order their handmade products. 
Get to know all the people that make it possible for Freshly Picked to create baby shoes just for you!