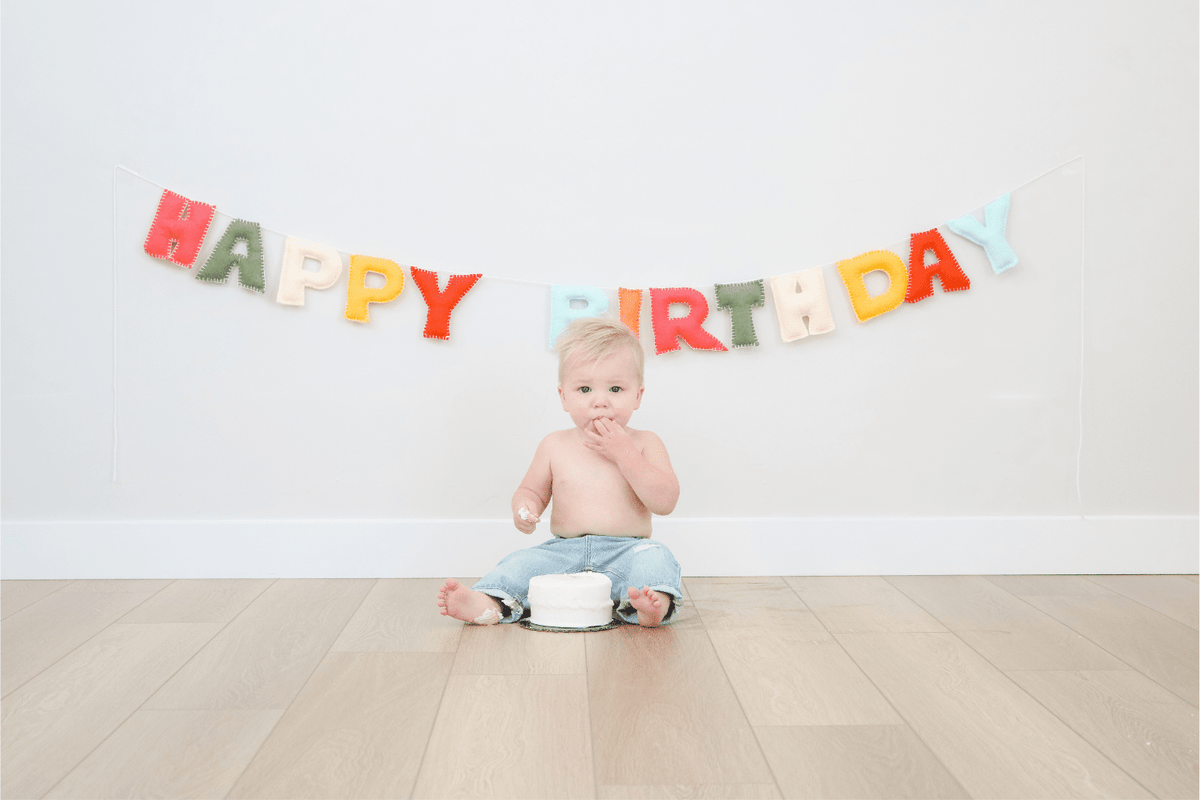 Celebrating Milestones: First Birthday Party Ideas for Your Little One!
The first year of a baby's life is filled with milestones, and one of the most exciting ones is their first birthday. Will they remember this birthday? Probably not, BUT that's what pictures are for! In all honesty, this is a celebration not just for your baby, but for the whole family, as they reflect on a year of love, growth, and joy. Because let's face it, you as a parent did just as much growing and learning as your baby did! This first birthday can be as elaborate or low-key as you want to make it, this is all up to you! To make this special day even more memorable, consider these creative and fun first birthday ideas.
Choose a Theme
https://abeautifulmess.com/junipers-puppy-themed-birthday-party/
A themed birthday party sets the stage for a great celebration. Consider themes that play on words like "Hole in One", "Wild One" or "One Happy Babe". Another theme option is going off of your child's interests. I know they're only one, but as little as they are you have probably started to realize they get excited over certain objects, toys or animals. My soon-to-be one year old is obsessed with balls. So much so, I'm worried about my Christmas ornaments this year-yikes! So taking this into consideration, for his first birthday we are doing "Come have a Ball!" with all kinds of balls, and colors as the theme. Some other theme suggestions are:
"The Big One" (surfer and ocean theme)
"To Infinity & Beyond" (rocket or space theme)
"Wild One" (jungle or safari animals theme)
"One Happy Little Dude" (smiley face theme)
"Brighter Than the Sun" (sunshine theme)
"Let's Paw-ty!" (dog theme)
"Berry First Birthday" (berry theme)
"Beary Cute" or "Beary First Birthday" (bear theme) 
When it comes to planning the perfect themed celebration for your baby's big day, don't overlook the opportunity to match every detail, right down to the tiniest toes. Freshly Picked baby shoes offer a delightful way to coordinate your baby's footwear with the chosen theme of the party. With a wide array of baby shoes to customizable designs and colors to choose from, Freshly Picked has you covered. Your little one's outfit can now harmonize effortlessly with the party decor, creating a cohesive and memorable look that's bound to be the talk of the celebration. It's not just about the shoes; it's about adding that extra layer of charm to your themed extravaganza, ensuring your baby's first birthday is a truly magical and coordinated event.
Cake Smash
One of the most iconic moments of a first birthday is the cake smash. This consists of a small cake that you either buy or make that is not for guests, and let your babe dive in! This makes for adorable pictures so make sure the setting around is cute and decorated so you can always enjoy the messy, joy-filled moment.
Invitations + Guests
Since your baby's first birthday is more about family and close friends, keep the guest list intimate. Send out adorable invitations featuring your baby's photos, or create invitations that go along with the theme of the party.
https://www.sierralmiller.com/2022/06/30/surfs-up-first-birthday-party/
Party Food
Most of your guests will be adults, with the exception of some kids sprinkled in so making sure food is appropriate for all ages is important. You don't have to serve a full meal, or you could and see if doing a bulk order at a fast food place would be fitting for your budget. If it isn't, finger foods and treats work just as good. Consider veggie slices in cups with dip, chips and salsa or skewers of fruit. For something sweeter, you can display different candies in clear glass jars or white bowls to make it look nice, or rice krispy treats using different cereals. Don't forget it's nice to have a separate cake or cupcakes for attendees as well!
https://mlovesm.com/2020/03/berry-first-birthday-party/
Activities
There will be chatter and kids playing with each other amongst your guests so activities may not be necessary, however, if you want to add them here are some you may want to include:
Sensory play areas with toys, bubbles, or sand
Craft stations
Mini petting zoo (if space & budget allow)
Story corner with books, bean bags, blankets or a puppet show
A person to come dressed up in a special character like Bluey, Cocomelon or Elsa
Photo booth with props and backdrops
Wishing jar where guests can write down their wishes for the birthday boy or girl
Party Favors
Show your appreciation to your guests with small party favors like personalized cookies, baby plants, or themed trinkets that remind them of the special day. These tokens of gratitude add a thoughtful end to your celebration.
https://thetomkatstudio.com/2015/07/sweetstrawberryparty-2/
Your baby's first birthday is a wonderful occasion to celebrate all the joy they've brought into your life. Whether you opt for a classic cake smash, a themed party, or a small gathering, the key is to celebrate in a way that feels meaningful and memorable to your family, loved ones and those who adore your little one. Happy first birthday!